Welcome to Power Drive Storage, west Michigan's newest self-storage facility. Whether you are on your way home from work, or on your way to the Lake, Power Drive Storage offers easy, convenient access to your belongings 24/7.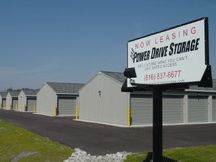 NOW WITH TWO LOCATIONS!
CALL (616) 837-6677 or email
Power Drive Storage Features:
SECURE ACCESS 24/7: Key pad entry through a fence gate provides 24 hour access, 7 days a week, for renters and management only. Security lighting is also provided throughout the grounds.  All units have individual locks.
CONVENIENT LOCATION: Power Drive Storage now has two locations. The primary location is on M-104/Cleveland between Spring Lake and Nunica, just one mile from the M-104 / I-96 interchange. The second location is closer to Spring Lake, off M-104 across from TED's Restaurant. Map
QUALITY CONSTRUCTION: All units feature concrete floors, insulated metal buildings, and a shingled roof (best for avoiding condensation and leaking) to make your valuables feel at home. Paved areas for parking and loading/unloading are maintained year-around.
MULTIPLE SIZE UNITS: Private units range from 5′ x 10′ to 15′ x 50′ so there is a size to fit your needs. Get Details. No outdoor storage available.
LEASE AND PAYMENT OPTIONS: Month-to-month lease payments can be made by check or credit card.
OTHER SERVICES: Free pallets are available. Fork lift services too! For a small fee, Power Drive Storage can load or unload your pallet from your truck into the storage unit. How easy is that!!
We store what you can't.